Support
Please support the StampDock effort.

Sponsors
Recommodations
Forums
Stampdock forum
Ads
Ads

About:

This is a demonstration project of the Stampdock software.
("StampDock" is software that offers services to parallax "BASIC Stamps")

It uses the ADNS-2610 optical sensor of a simple logitech mouse as a 18x18 pixel camera.
If you have a simple optical logitech or other optical mouse, you can do a simple mod,
by soldering 4 wires to it .. and desoldering 2 pins to use it as a simple camera.

So if you always wanted to use a mouse sensor as a camera on your robot, then with this
software you can see what the robot sees. It has been tested on "basic stamp" 2 and the
"Javelin stamp".

You can download the complete project from this page.
The archive contains a "basic stamp" and Javelin program that runs the mouse.
The stampdock windows/mac/linux software which acts as the display/gui of the "basic stamp".

With the provided lens the camera can only focus over a couple of millimeters, but when i replaced
that lens with the lens of an old philips (24x ?) CDrom drive i could focus to infinity.
This lens has a flat and a round surface, when you place the round surface on the sensor
it seems to work best. (see photos)
Of cause there is still space for experiments, you could for instance replace the red mouse LED
by an RGB LED to try to make a "color mouse camera".

GUI: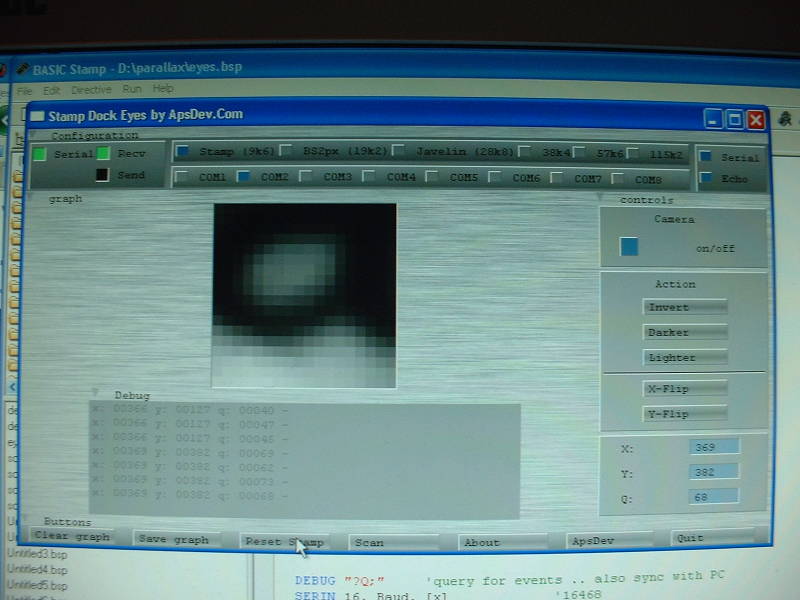 [ click to enlarge ]

This is the system in action.
Note that the camera is looking at a small character on a piece of paper.


Circuit: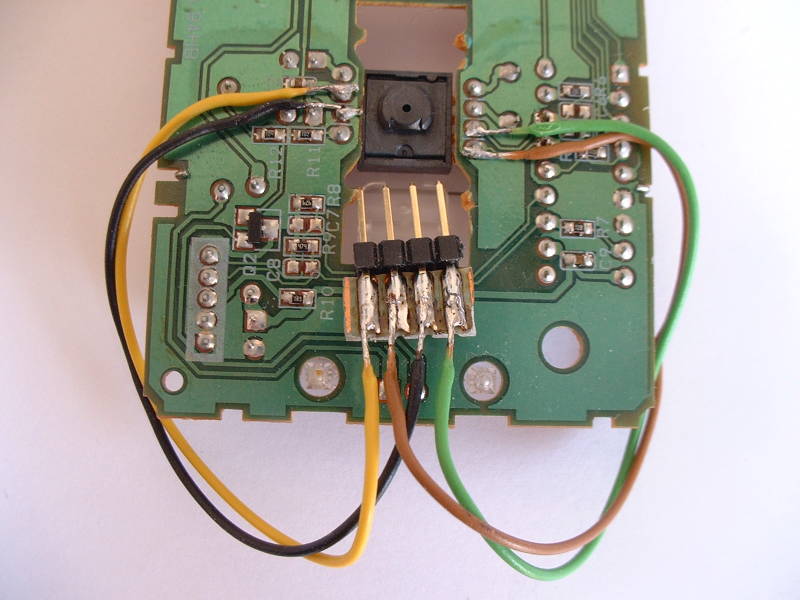 [ click to enlarge ]
This is the modified mouse, it is a simple logitech mouse with an ADNS-2610 optical sensor.
The modification consist of soldering 4 wires to the mouse, and desoldering 2 pins.
The yellow wire is +5V , the black wire is ground.
The green wire is "data" which is connected to pin 14 of the "basic stamp".
The brown wire is the "clock" wire which is connected to pin 15 on the "basic stamp".
Note that you need to desolder the pins of the mouse controller chip which are connected to the
"data" and "clock" line. You can see the desoldered pins under the brown and green wire.
If you do the mod carefully the only thing you need to do to use the mouse again is resolder
the desoldered pins. And perhaps put some tape over the wires you connected to the mouse.

Pictures: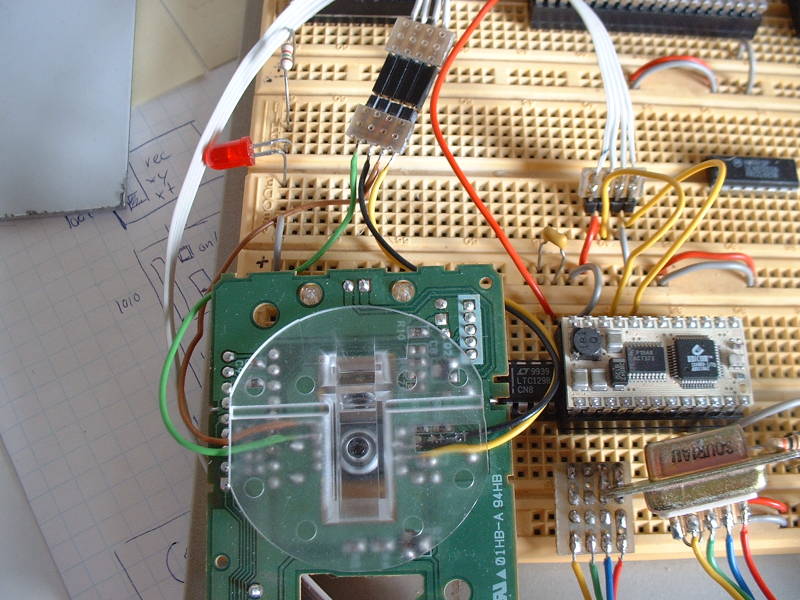 [ click to enlarge ]
This is the mouse connected to a "Javelin stamp".

[ advertisements ]
Results:


CDrom lens on the sensor

The ceiling light reflector

Window from 6 meters

Window with vertical blinds

Camera 90 degrees tilted
News:



Downloads:
Latest version:
Mirror1 8-aug-10 Download V1.0 6MB Stampdock eyes.

Older versions:
Mirror1 8-aug-10 Download V1.0 6MB Stampdock eyes.


Feedback:
StampDock Eyes
Report a bug

Copyright 2008-2010 by Arend-Paul Spijkerman